A few days ago via the drugstore.com website I discovered that Vanicream™Sunscreen SPF 35 Sport is considered ORM-D material but Vanicream™ Sunscreen SPF 30 and Vanicream™ Sunscreen SPF 60 are not. If your not familiar with the ORM-D regulations, it is a classification of "hazardous materials" by the US Department Of Transportation (DOT) that requires special packaging and handling for shipment and may not be shipped via air. Effectively, it is to prevent flammable or explosive materials that could endanger an aircraft from being shipped by air mail.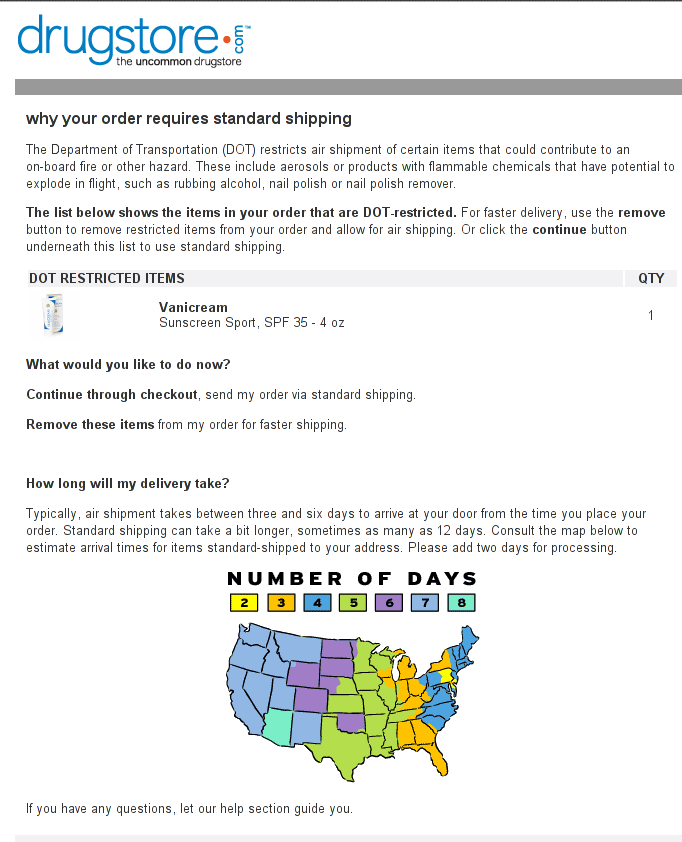 Assuming that drugstore.com has correctly market one product as requiring ORM-D handling and other as not, there must be one or more ingredients in the SPF 35 Sport product subject to DOT regulation which is not in the SPF 30 product.
Here is the unified diff between between sorted versions of the two ingredient lists posted on the manufacturer's website.

$ diff -u spf30_ingredients.txt spf35_ingredients.txt 
--- spf30_ingredients.txt	2012-04-06 14:14:35.676339755 -0700
+++ spf35_ingredients.txt	2012-04-06 12:08:27.690570602 -0700
@@ -1,19 +1,16 @@
-alumina
-C12-15 alkyl benzoate
-caprylic/capric triglyceride
-cetearyl isononanoate
-cetyl alcohol
-isopropyl titanium triisostearate/ triethoxycaprylylsilane crosspolymer
-magnesium sulfate
-methylpropanediol
-PEG-12 dimethicone
+cetyl PEG/PPG-10/1 dimethicone
+cyclohexasiloxane
+cyclomethicone
+cyclopentasiloxane
+dimethiconol
+glycerin
+hydrogenated castor oil
+magnesium chloride hexahydrate
+octinoxate 7.5%
 PEG-30 dipolyhydroxystearate
-phenyl trimethicone
 polyethylene
-polyhydroxystearic acid
 purified water
-sodium ascorbyl phosphate
-stearyl dimethicone
-tetrasodium EDTA
+tridecyl neopentanoate
 triethoxycaprylylsilane
 vitamin E
+zinc oxide 8%

Of this list I've been able to find MSDS' for:
So it appears that cyclohexasiloxane and/or tridecyl neopentanoate are the likley source of the ORM-D designation, except that this status should not apply to the quantities that any regular consumer would be purchasing in. If anyone could shed further light on this issue it would be much appreciated.